WANT TO CREATE A UNIQUE WEDDING DAY, BUT WORRIED ABOUT THE COST?  NO WONDER!
Posted on 26th June 2020
According to Hitched https://www.hitched.co.uk/wedding-planning/organising-and-planning/the-average-wedding-cost-in-the-uk-revealed/ , the average wedding in this county last year was a staggering £31,974. A big chunk of this can be for hiring the wedding venue.  So here are a few examples of how you can reduce that element of the cost by having a Humanist wedding.
Humanist celebrants like me will create a special, personalised wedding ceremony for you, ANYWHERE.  And this can mean that you cut £3000-£5000 off the cost of the ceremony instantly.  Those glorious Georgian mansions or remote Welsh castles are wonderful, but not for everyone.
HERE ARE SOME OF THE SPECIAL OUTDOOR WEDDINGS I'VE DONE
OUTDOOR WEDDINGS IN GARDENS….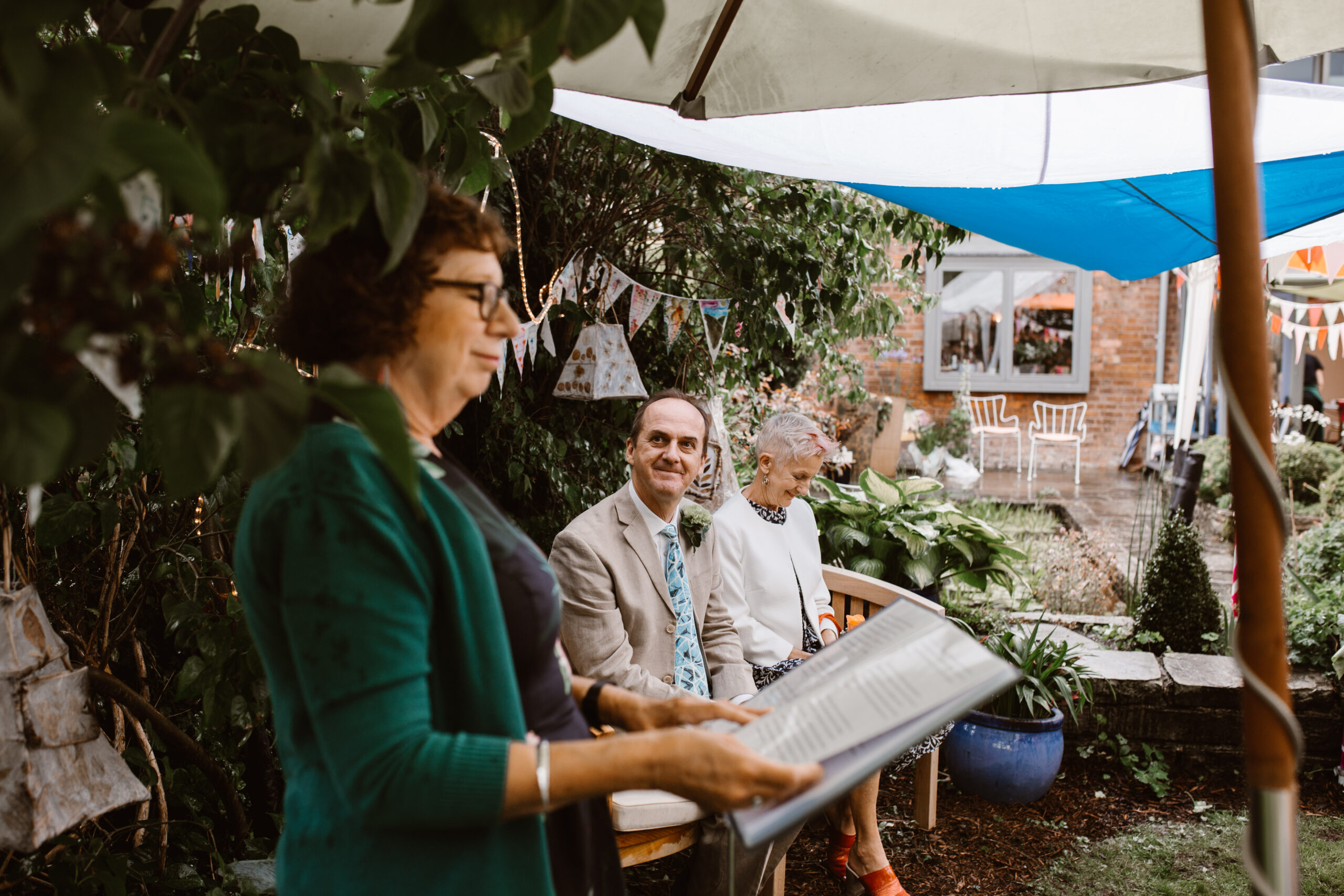 Diana and Andy got married after 35 years together, in the garden of their terraced house.  They borrowed the next door garden for the drinks which followed, creating an archway between the two specially for the occasion.  It poured with rain, but a few canvas sails and big umbrellas sorted that out.  The sun came out at the moment of the ring exchange.  Magic!
Richard and Vicky got married in her parents long-established garden.  They had a multiple hand fasting. Ten of their family and friends brought ribbons to tie their hands.  They took a photo of the flower border a year before the ceremony, so the ribbons would match it.  This also had a bittersweet feel. One of the ribbons was tied in memory of the bride's sister. She had died young, but had grown up playing in that garden.
OUTDOOR WEDDINGS WITH ANIMALS….
If you want to include animals in your ceremony, it can be tricky in a registered venue.  But  I did a wedding at the bride's stables (she was a dressage rider). She led her rather nervous husband into the ceremony on a horse. He told me that his only previous involvement with horses before meeting her was putting on the odd bet at Sandown Park.  Her English setter was also drafted in to be the ringbearer.
OUTDOOR WEDDINGS WITH SURPRISE EXTRA ELEMENTS…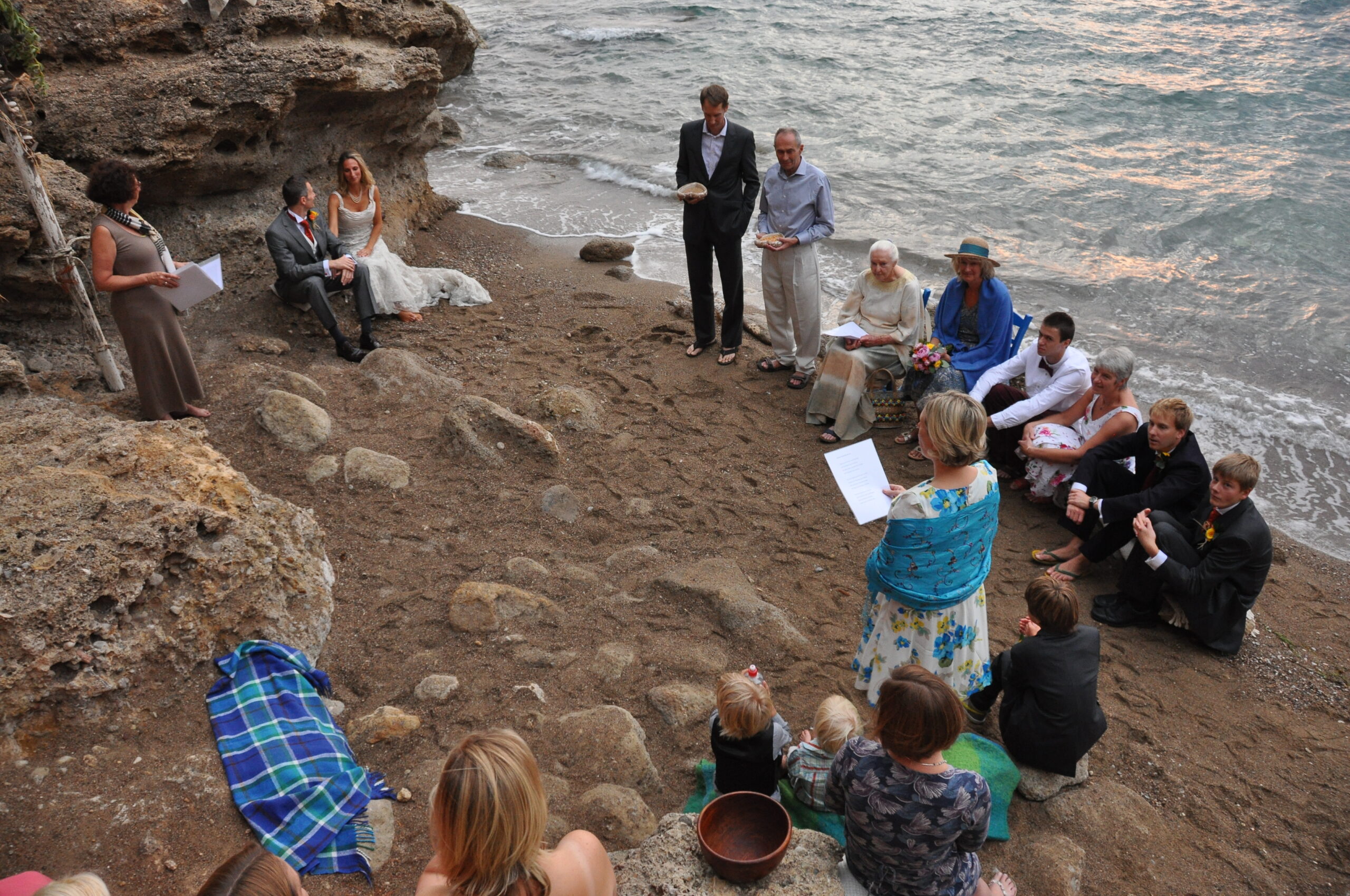 Informal venues can lead to very special moment.  At Rachel and Judith's ceremony on a campsite in Hampshire, the Red Arrows flew over just as they were in the middle of exchanging their vows.  And when Mike and Kerry got married, on a beach in Greece, we all stripped down to the swimsuits we were wearing under our formal clothes and jumped in the sea afterwards.
OUTDOOR WEDDINGS IN THE WORKPLACE……..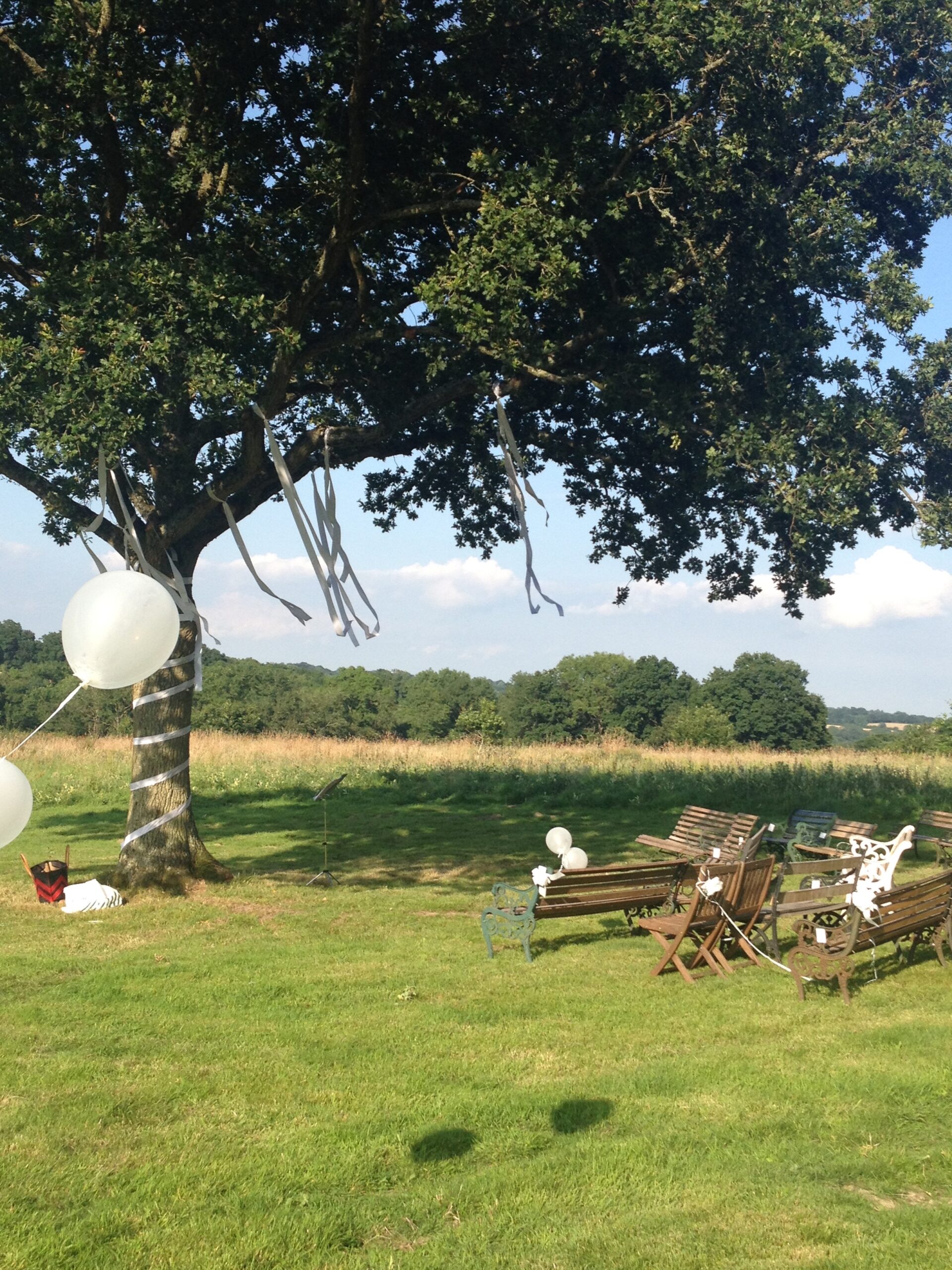 Helen and Dave run a reclamation yard, and married under the oak tree in the field behind their business.  The guests sat on a wonderful array of chairs, taken from the yard for the day.  They included garden chairs, park benches, barrels, and all sorts.  The groom and best man were detectorists.  They wanted to bury the ring and find it with a metal detector.  Rather to my relief, they gave up on that idea.  It would have been fun, but as the celebrant you're responsible for making things go smoothly, and there could have been problems!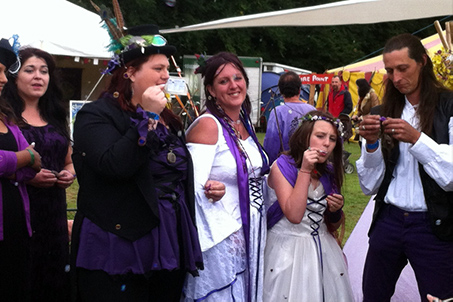 And I married Chrissie and Andy, who ran a grocery stall at music festivals, at the Over the Moon festival in East Sussex. I had to have a "crew" armband to get in and out for the rehearsal and the wedding.  A few years later, I married their daughter (who had been a teenager at the time of their wedding) in the woodland campsite now run by her parents.  And just to keep it in the family, I'm going to do a renewal of vows for Chrissie and Andy soon.  In fact, if you're in the South East and are looking for a relaxed outdoor venue, it could be the place for you – https://www.facebook.com/wishwood.org/
OUTDOOR WEDDINGS, ALMOST ANYWHERE YOU WANT
Of course, this isn't an entirely cost free alternative.  If you want to be legally married, you have to go to a register office and legally register the marriage. If you book well ahead and ask for the most basic ceremony, you can keep the cost of that down too.  And you have to pay your humanist celebrant (fees average around £650).
Compare this though to the cost of a registered venue (average £5,406), and their catering costs (average £3,887), the registrar (around £800 to come out to a registered venue), and the rest.  It has to be a real saving.  If you're marrying in your own back yard, so to speak, you can of course do the catering yourself. Or even ask all your guests to bring a dish with them.  And like keen bikers Peter and Kathy, you can even arrive or leave on your motorbike.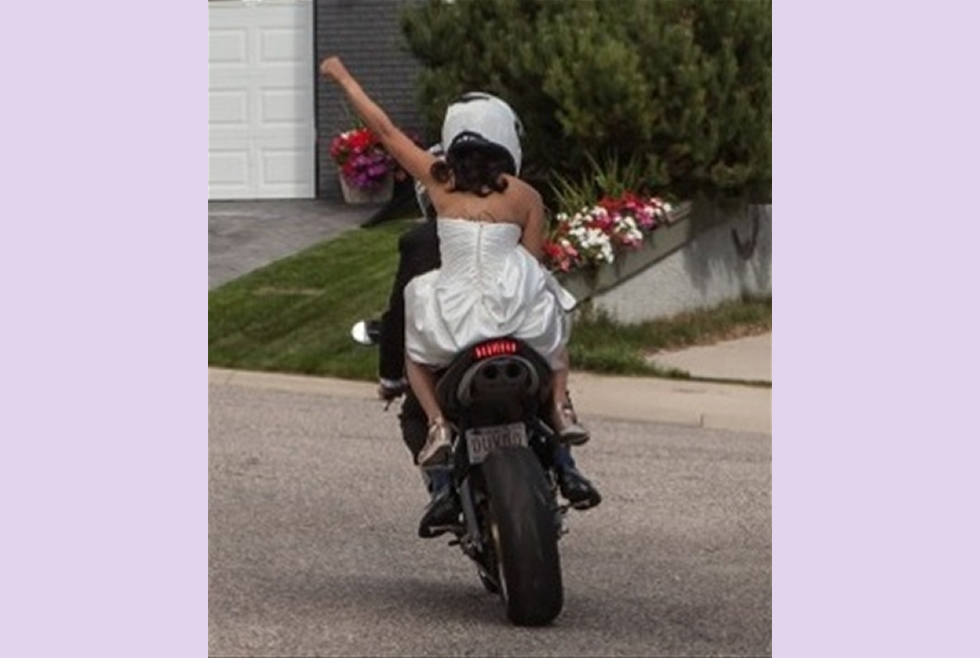 RESULT – A CEREMONY WHICH IS FUN, PERSONAL, AND COSTS ONLY A FRACTION OF THAT £31,974.
Want to find out more about booking a humanist wedding ceremony with me?
Have a look at https://www.felicityharvestcelebrant.co.uk/weddings/ or give me a call on 07708 933607