Outdoor Weddings – It Doesn't Rain as Often as You Think
Posted on 7th July 2020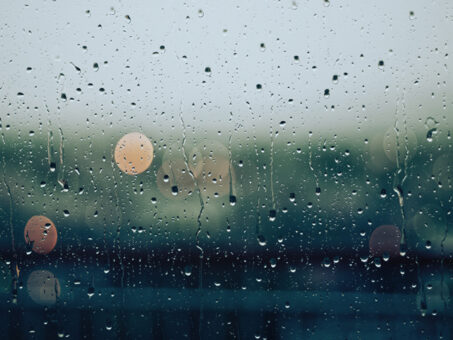 I'm writing this on July 7th 2020, the first day of the High Court case.  Six couples are arguing that not being able to have a legal humanist marriage infringes their human rights.  And it's also the 8th anniversary of Tom and Ginny's wedding, which happened in the garden where Tom's parents had lived for 33 years.  That's exactly the kind of meaningful place where we Humanists want to conduct legal weddings.
SHOWERS ARE FORECAST
Couples worry about rain.  And I reassure them that in 9 years of doing outdoor weddings, I've only had a couple rained inside.  But Tom and Ginny's was one of them.  It was a day of heavy showers – very heavy!  We ummed and arhhed for ages about that we should do.  The chairs had been set out in the garden, and would be moved into the marquee later.  But when it came to half an hour before the ceremony, another shower was forecast, so we decided to go into the marquee.
So there we were, inside a steamy marquee, chairs all higgledy piggeldy.  A chamber quartet was playing live.  Tom and I were out front.  Of course, all our carefully rehearsed plans on sight-lines were useless now.  There was no way I could see the bride approaching.  So I asked an usher to stand at the entrance of the marquee and give me a thumbs up when the bride was approaching.  That was my cue to stop the musicians playing background music and be ready to start the entrance music.  So, when that thumb went up, I asked them to stop.
BUT WHERE'S THE BRIDE?
Then we waited.  And waited.  And waited.  We waited in silence for almost 15 minutes.  Nothing happened.  I negotiated with the brides Mum as to whether we should start up the general music again.  We waited.
15 minutes later, Ginny finally appeared.
What had happened?  Well, she had started her walk from the house to the marquee without incident.  My man at the tent flap  had seen her coming.  But then…  As she crossed the sodden lawn, the heels of her white satin shoes became firmly embedded in the mud.  The bridal party had to go back to the house, wash the shoes, and walk back, carrying the bride (!) who was finally placed back into her shoes when she had safely reached the marquee.
It was a wonderful wedding.  Certainly it was memorable.  And it remains one of the very few weddings I've done where we've had to change our plans because of rain.