More Humanist Weddings Than Christian in Scotland Now
Posted on 28th June 2020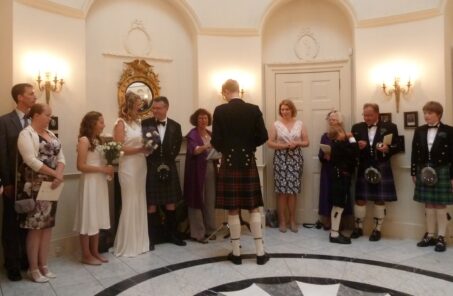 An analysis of newly released official statistics reveals that there were more humanist marriages in Scotland last year than there were Christian marriages. Humanist marriages made up 23% of all marriages. Christian marriages made up 22%. Therefore Humanists UK has called on the UK Government to urgently recognise the need to bring about legal recognition of humanist marriages in England and Wales.  These new statistics show evidence of demand. In addition there will probably be an over-demand for civil registrars following on from the coronavirus pandemic. The legalisation of Humanist marriage could ease this situation.
The new statistics were released by the National Records of Scotland earlier this week. They were analysed by Humanists UK to calculate the total number of humanist and Christian marriages. In total there were 5,879 humanist marriages, compared with 5,812 Christian marriages. Humanists UK's sister organisation Humanist Society Scotland was the largest single provider of marriages, with its celebrants conducting 3,276. The Church of Scotland conducted 2,225 marriages, while the Catholic Church conducted 911.
I had the pleasure, in 2013, of legally marrying Judith and Chris in Scotland, just outside North Berwick.  As an accredited Humanists UK celebrant in England I was allowed to do that.  It was a wonderful feeling to officially sign that form!
Thinking about having a humanist wedding?  Have a look at https://www.felicityharvestcelebrant.co.uk/weddings/ or give me a call on 07708 933607